Our Big Idea and Macro trends:
People have become more concerned about their health and wellbeing, therefore the ingredients within a product and where they're sourced has become more important. The 'Simply Delicious' range offers consumers a guilt free treat that balances the tension between healthy and indulgent.
The base biscuit will be made from locally sourced wholesome ingredients with a tasty twist of kiwiana flavours.
Being more concerned with ones health and wellbeing is becoming an increasingly popular global macro trend. This means that consumers are now scrutinising products nutritional information and ingredients lists as they are more aware of what are good/bad ingredients. A way we have addressed this specifically within our packaging is to make the nutritional information clear and stand out so that we are being transparent with our ingredients. Through our big idea, we are recognising that biscuits are still seen as treats but we would like to incorporate a healthy aspect to address this trend ultimately creating the perfect balance of healthy and indulgent within our biscuit. Rationally, this is achieved through our biscuit recipe as the healthy aspect is the base that uses wholegrain oats, less sugar (brown), wholemeal flour, and various dried fruit. The indulgent aspect being that the biscuits are dipped in dark chocolate. We are not marketing these biscuits as "healthy" but more as a healthier alternative when compared with our competitors like Farmbake. 
The idea of buying local is an emerging macro trend especially here in New Zealand as consumers are wanting to support the local economy. This means that people are looking for products that are made in New Zealand, and are New Zealand owned or both. Though Ernest Adams is now owned by an international company, we can emphasise that our product is made in New Zealand and has a rich history here. To reflect this within our product we have chosen to use iconic kiwi flavours such as "pineapple lump", "kiwifruit" and "jaffa" to reinforce the idea that Ernest Adams range 'Simply Delicious' is baked here in New Zealand. Using this macro trend of provenance gives us an edge over our main competitor Farmbake as they're an Australian owned company so cannot use provenance to their advantage.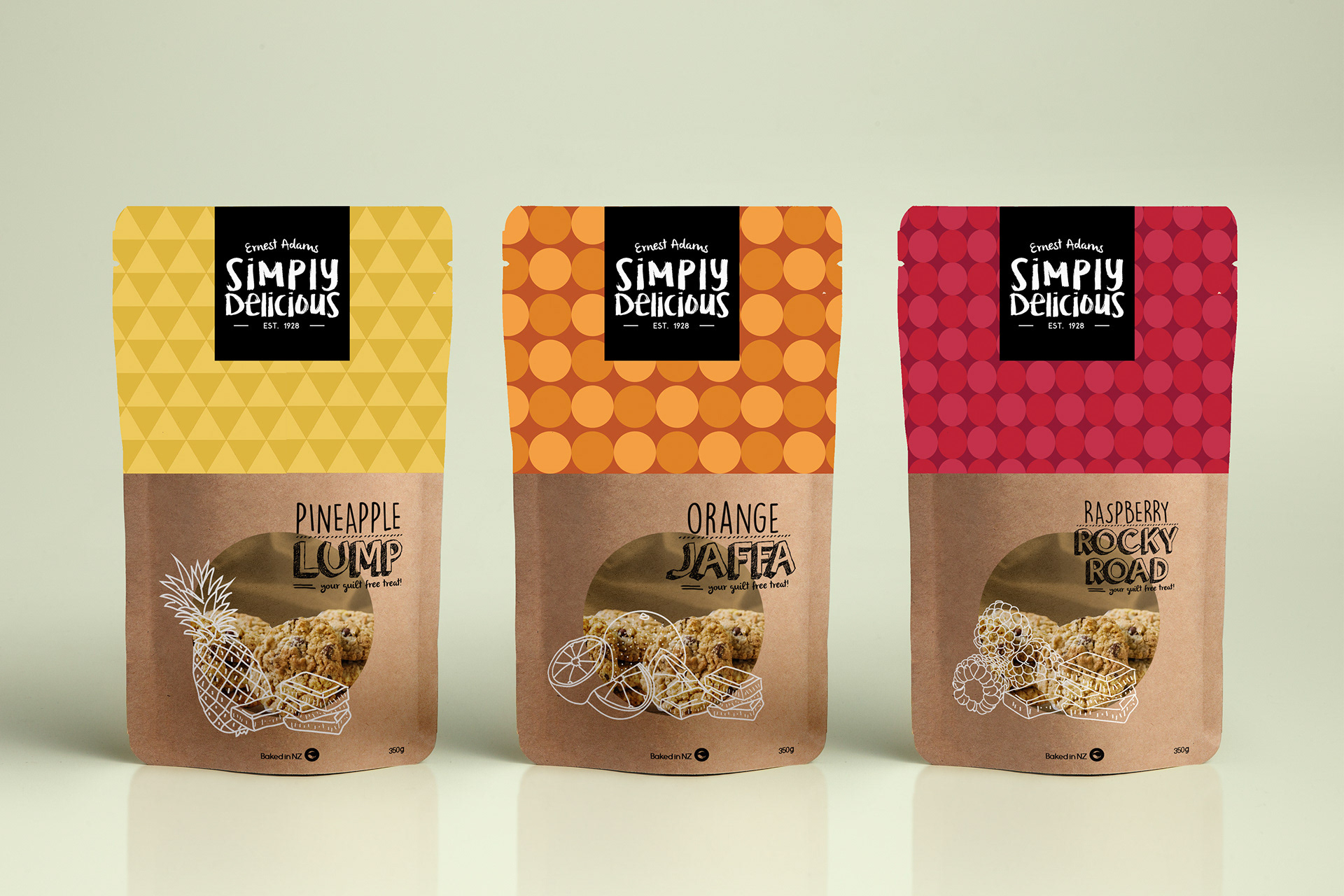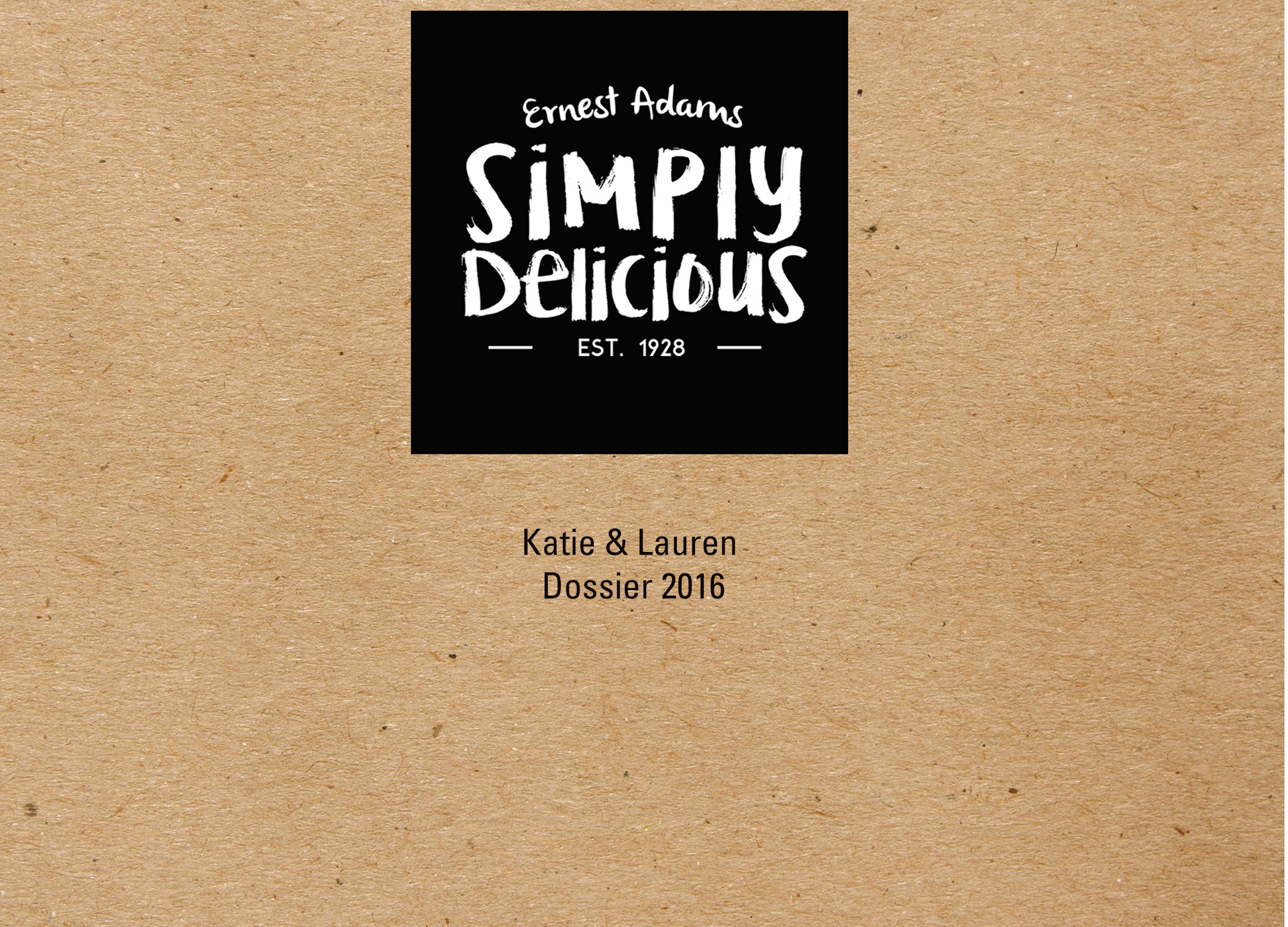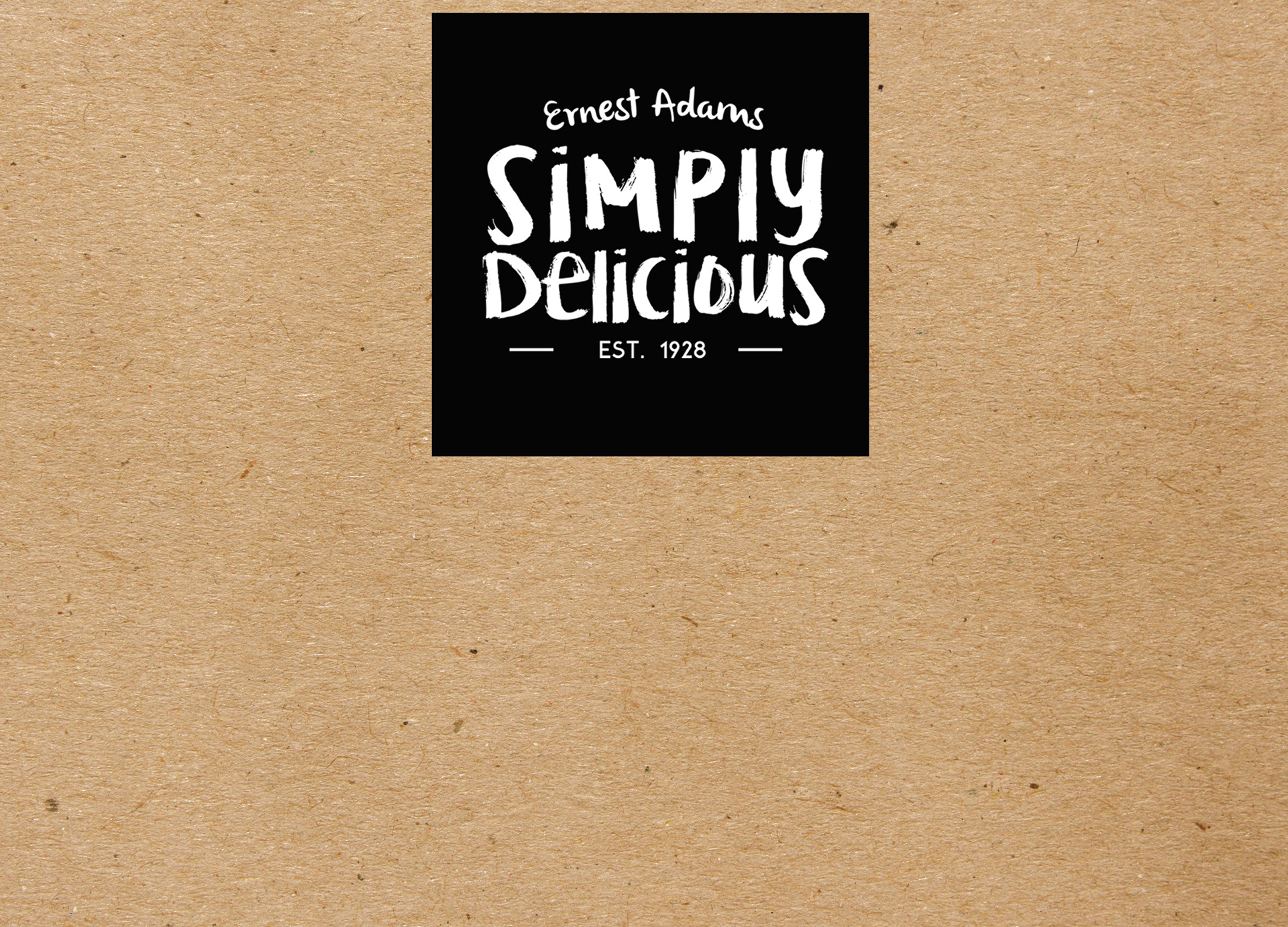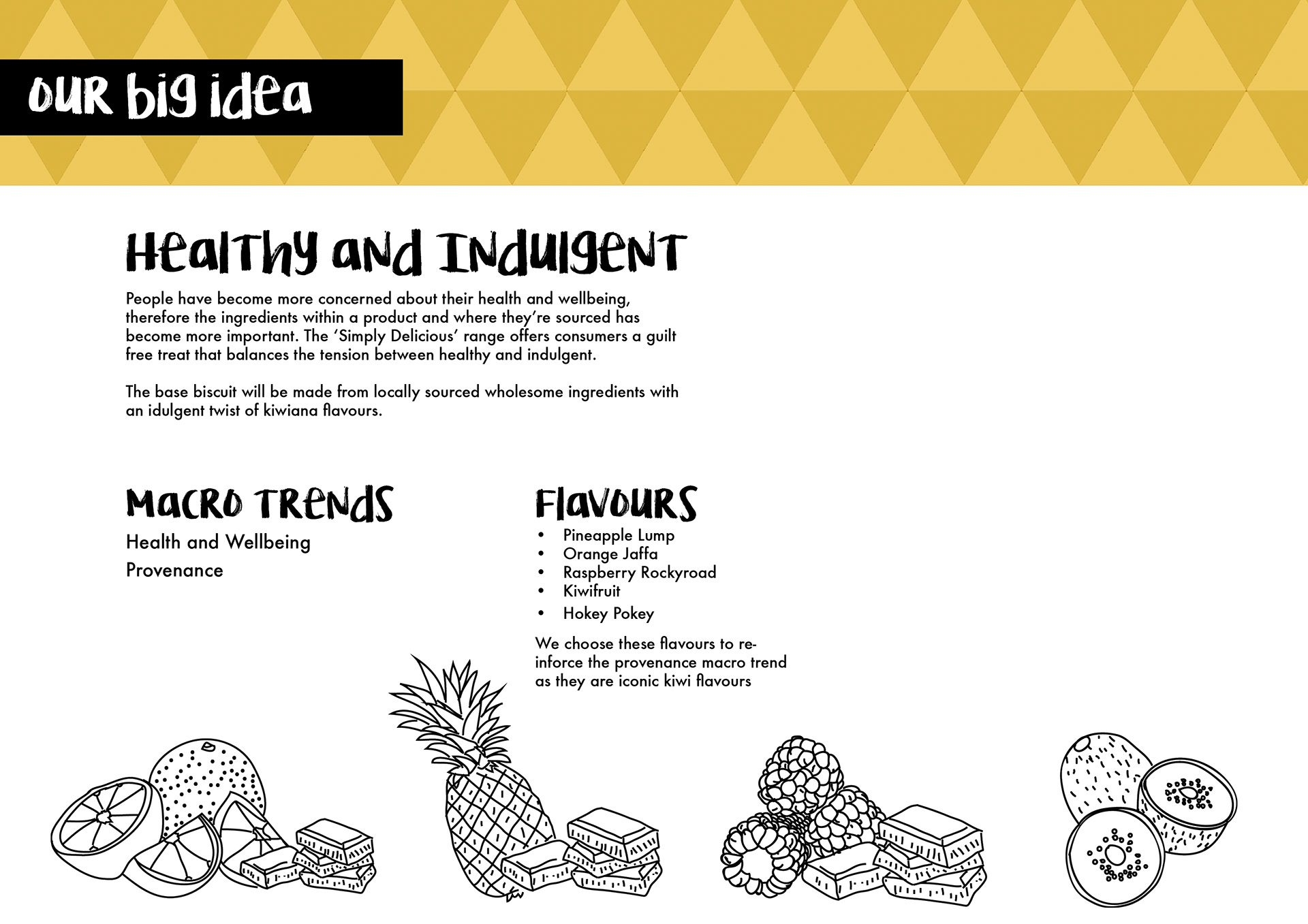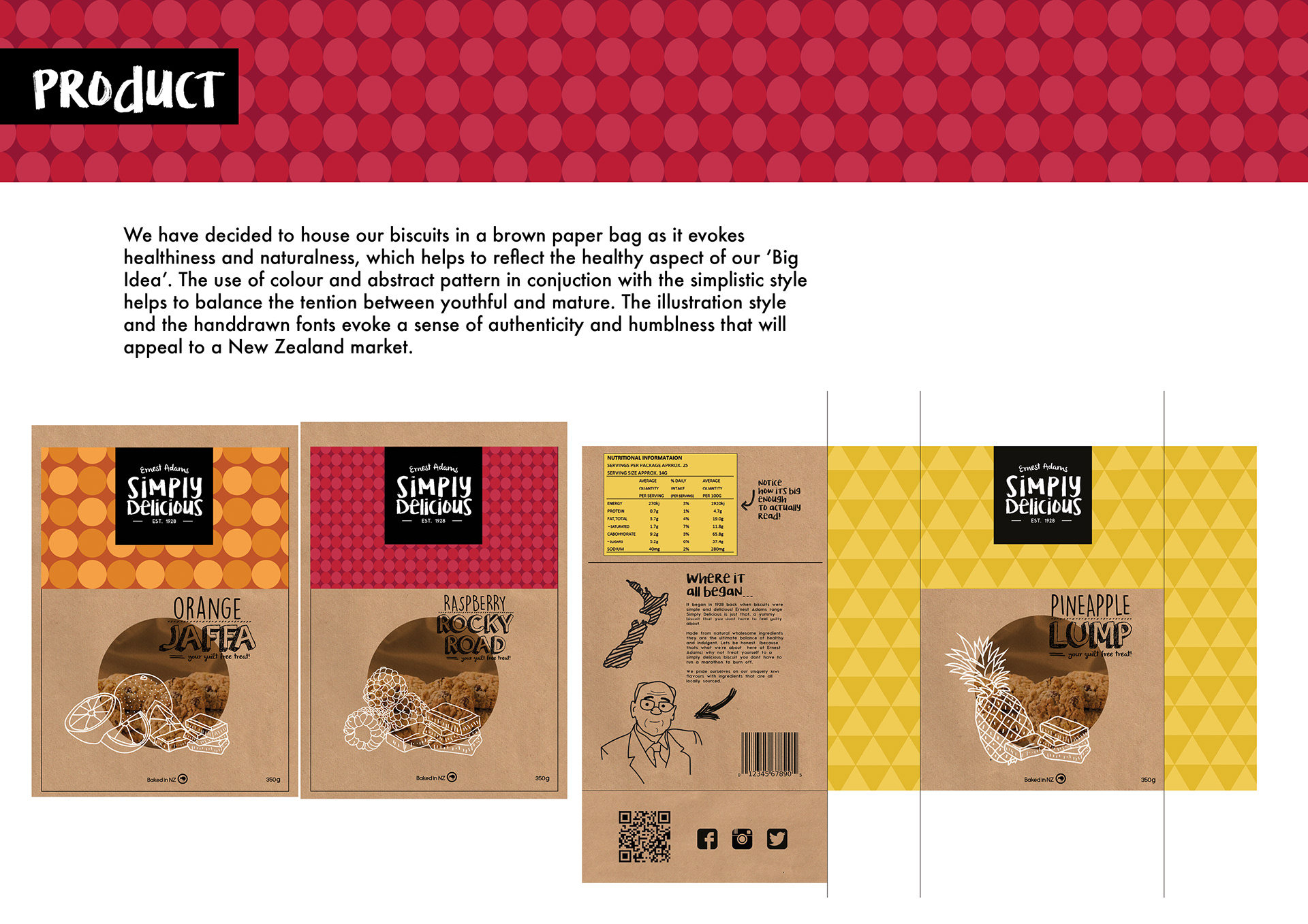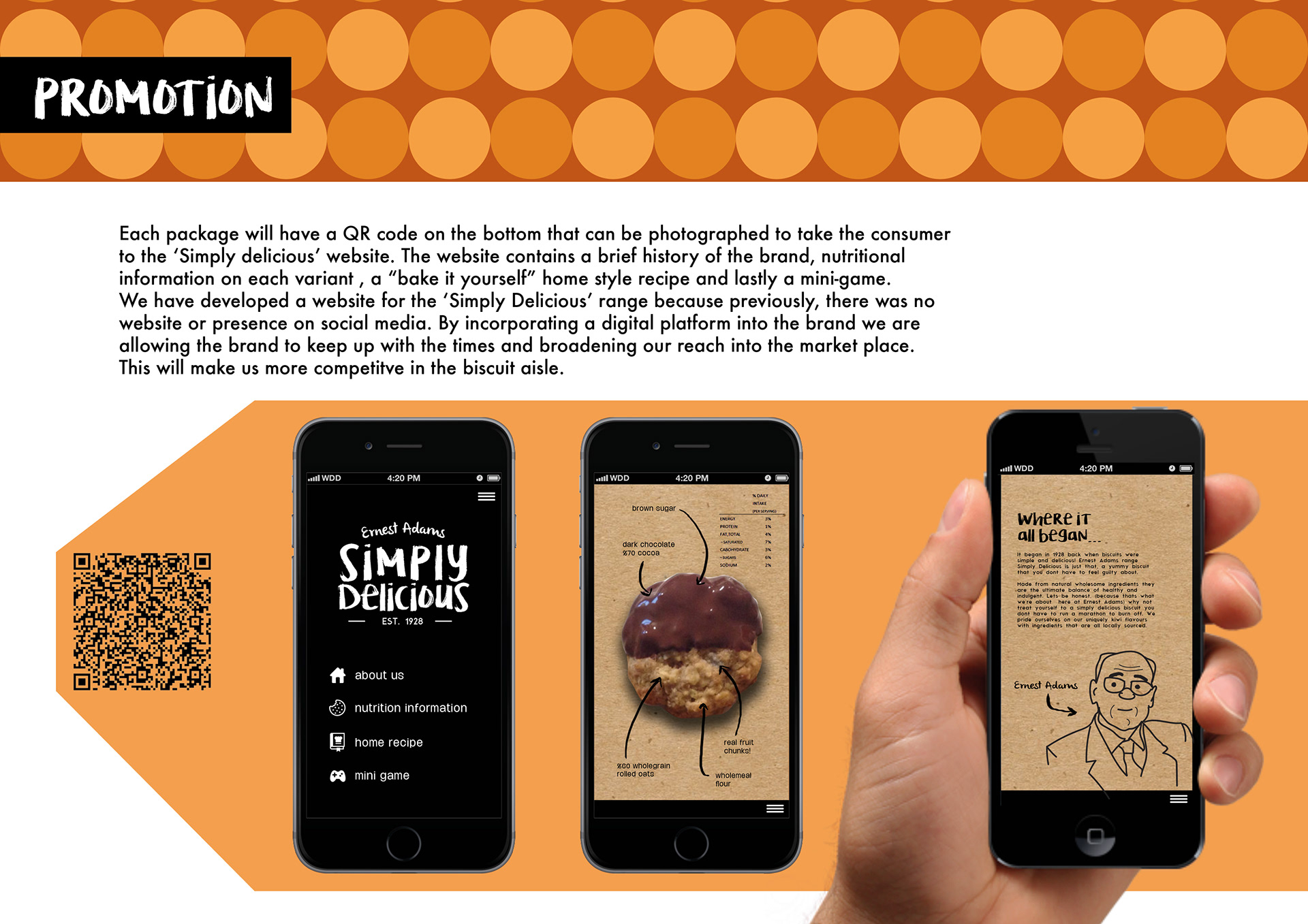 Contributors: Lauren Coetzee & Katie McKenzie 
Research : Lauren Coetzee & Katie Mckenzie 
Visual direction: Lauren Coetzee & Katie McKenzie 
Dossier layout & content: Lauren Coetzee 
Tools: Adobe Photoshop, Adobe Illustrator & Adobe Indesign